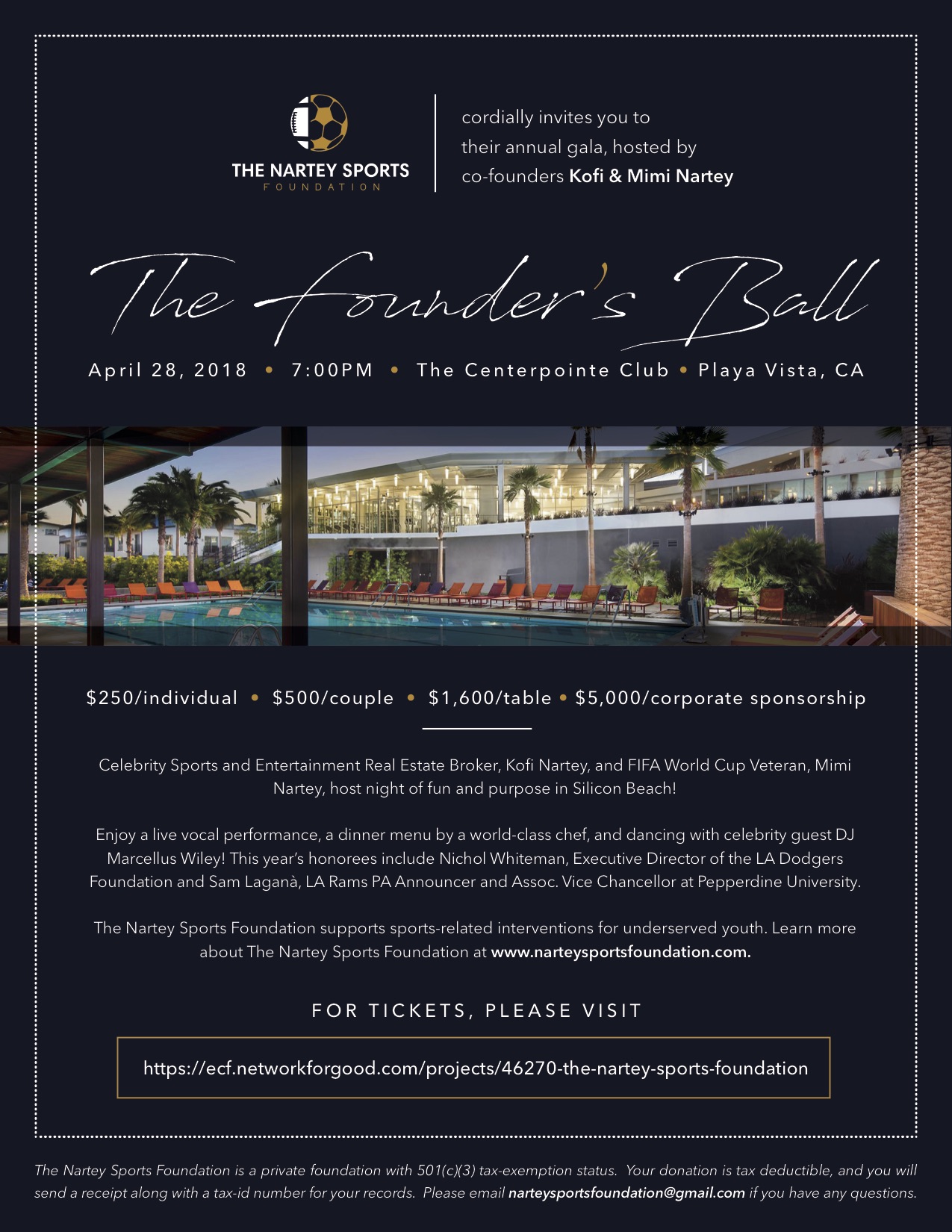 THE FOUNDER'S BALL
All donors at the Elite Sponsorship Level receive an invitation to attend our Annual Elite Sponsor's Gala.
Speaker and Honoree: Nichol whiteman, exec. Dir. LA Dodgers foundation
Nichol Whiteman is Executive Director of the Los Angeles Dodgers Foundation where she oversees the team's charitable arm. Under Whiteman's leadership, LADF launched Dodgers RBI (Reviving Baseball in Inner Cities) serving over 10,000 youth, created a benefit gala, and increased fundraising by 1,000%.
Nichol earned a degree in Economics from Spelman College. After success in investment management and publishing, her philanthropic career began as VP, Western Region Director of the Jackie Robinson Foundation in 2006. She earned the 2005 LEAD Program in Business Leaders of Tomorrow Award, was honored as a Woman of Inspiration by The Wave in 2010, was honored by the National Urban League Young Professionals of Los Angeles in 2015 and was honored by the Alpha Kappa Alpha Sorority in 2017.
She served on the Executive Leadership Team of the 2012 American Heart Association Go Red Campaign and is a current member of the Women's Leadership Council and Women in Sports and Entertainment. She serves on the advisory boards of Covington Capital Management, A Better Chance, Inc., New Teacher Center, and The Positive Results Corporation. Additionally, she sits on the board of Positive Coaching Alliance. Nichol currently resides in Inglewood with her husband Timothy and their two sons Timothy Jr. and Nicholas.
Speaker and honoree: Sam lagana, "The voice of the rams" and Assoc. Vice chancellor, Pepperdine Univ.
Sam Laganà is the Associate Vice Chancellor of Pepperdine University where he stewards relationships with alumni, parents, corporations, agency's and friends to help advance University initiatives that benefit students. Sam has focused much of his philanthropic efforts on sports programs, arts, scholarship development and capital projects.
Mr. Lagana began his career in sports management focussing on marketing, promotions & public relations with the start-up Association of Volleyball Professionals and migrated to collegiate athletics administration with leadership stints at Cal State Northridge and Dominguez Hills specializing in External Affairs. The Los Angeles Athletic Club attracted Sam to a senior executive role with oversight of Athletics, Sports Marketing & Business Development and the John R. Wooden Award program prior to the Pepperdine invitatIon 17 years ago to serve in the Advancement and Public Affairs Division on the Malibu campus.
Sam earned his bachelors degree from Loyola Marymount University, studying Image Management & Business and he pursued graduated studies in Educational Administration and Non-profit Philanthropic Leadership receiving a Presidential Key Executive MBA from the Pepperdine|Graziadio Business School in August 2017
As a servant leader, Sam has been active for 20+ years as a board member and President of WestCoast Sports Associates, a non-profit organization focused on providing financial resources for youth sports in Southern California. Sam served the Palisades Malibu YMCA as board Chair and has sat on the board of the Pacific Palisades Chamber of Commerce. He is currently active with the John R. Wooden Award - serving as National Chairman, the Sons of the American Legion Post 283 and Sam sits on the Advisory Board of the LA Sports & Entertainment Commission (20+ years), Sam is an accomplished announcer and is the "stadium voice" of the Los Angeles Rams.
Sam resides in Pacific Palisades with his wife Eileen and their two daughters.
Live vocal performance: Brandi Williams-Moore
Brandi Williams-Moore grew up in Seattle, Washington and began singing at the age of 4. She attended the University of Washington before accepting a vocalist scholarship to Berkley College of Music in Boston, MA.
While at Berkley, Brandi shared the stage with people such as Steely San, Kim Burrell, Vanessa Bell Armstrong, LL Cool, and Jennifer Holiday. After graduating, Brandi moved to New York City where she began writing and recording with names like Troy Taylor, Rockwilder and Kuya.
Brandi has also sung background for Alicia Keys, Tamia and Toni Braxton.
In 2004 Brandi earned a Master's Degree in Education and Teaching at Pepperdine University. Brandi has also won in the category of Vocal Contemporary for NAACP ACT-SO competition and has worked with Grammy-nominated songwriter Claude Kelly and singing background vocals on Whitney Huston's 2009 album, "Sex and The City 2 soundtrack. She has also worked in music television as the Background Arranger and Background Vocalist for the TV show, X-Factor.She is currently the Music and Performing Arts Teacher at the Chandler School, where she has implemented a thriving music and performing arts program. She is married to Brian Frasier-Moore who also works as professional touring drummer in the music business.
celebrity guest: Marcellus wiley
Marcellus played ten seasons in the NFL starting with the Buffalo Bills (1997-2000), San Diego Chargers (2001-03), Dallas Cowboys (2004) and Jacksonville Jaguars (2005-06). He was selected to the AFC Pro Bowl team in 2001 while being voted to the NFL's top 50 players list twice. Known for his community involvement, he was voted three times by his team as the Walter Payton Man of the year.
In 2006, Wiley was inducted into the Columbia University Athletic Hall of Fame. In 2009, he was named the recipient of the Advocate Award by the Brady Center to Prevent Gun Violence for his invaluable activism and dedication to raising awareness about gun violence. He was inducted into the Ivy League Hall of Fame in 2013.
Wiley is an ESPN Host of the television show 'SportsNation' and radio show 'Afternoons with Marcellus & Travis' on ESPNLA 710am. He is also a happily married man and father of two.
When not on the air, Wiley is hard at work overseeing his portfolio of business interests, touring as a motivational speaker and using his talents to make a difference in his community. "Project Transition," Wiley's charitable organization, provides leadership training to at-risk youth with the goal of creating tomorrow's thought leaders. In addition, Marcellus is passionate about music. He has over 20 years of DJ experience and has been requested to DJ some of the biggest brand events in the sports and entertainment industries.
celebrity guest emcee: Jasmine Henderson
Jasmine Henderson is a current Guinness World Record Holder, former professional soccer player, author, speaker and mom.
Jasmine is part of Equal Playing Field, a non profit committed to creating opportunity, equality and respect for women in sports around the world, from the grassroots to the elite. In 2016, she was part of a contingency of women from around the world who set the official Guinness World Record for the highest altitude soccer game at almost 19,000ft. in the crater of Mt. Kilimanjaro.
In April 2017, she will also set he lowest altitude record at the Dead Sea in Jordan.
Her life experiences is what drives her to support people in living beyond limits and beyond labels. An advocate for women empowerment and equality, Jasmine speaks around the world, is setting another world record and writing her next book, "She Will Rise."
Jasmine is a committed and strategic leader who inspires and empowers people to be their best selves.
2018 NSF Founder's Ball Event Ambassadors
Red Carpet interviews with entertainment correspondent
Heather Wilson
start at 6:45 pm
Talk show host, fashion influencer, and children's show producer, Heather Wilson will host the Nartey Sports Foundation red carpet on April 28, 2018!
The field hockey, track athlete, and cheerleader turned professional dancer and motivational speaker has a funny, charismatic, and authentic approach to people and life. Heather has a lot of experience with the glitz and glam of Hollywood, but recently she has a new role: supporting her daughter who just had her acting debut as "Young Meg" in Disney's A Wrinkle In Time.